Signode BXT Strapping Tool
The balanced lightweight design of the BXT is exceptionally comfortable to use, yet withstands heavy usage in the most demanding applications. The enhanced operating features result in a tool that is fast and easy to operate, it has better process control, more cycles per battery charge and has low mainenance costs.
The lithium ion battery has a 15-30 minute recharging time, with up to 50% more cycles compared to a NiCad battery.
3.9kg tool weight

PET or PP Strapping

Friction Weld

400-2500N Applied Tension

200 to 400 Cycles per charge

Bosch 14.4v 2.6amp Li-Ion battery
BXT Battery Strapping Tool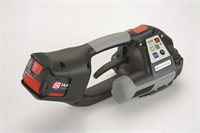 Battery Powered Strapping Tool.