We offer a wide range of Machinery Servicing, either on site or return to our workshop. We also supply spares for a number of Packaging Machines including Pallet Wrapping Machines, Carton Sealing Machines, Strapping Machines, Banding Machines and Gummed Tape Machines.
Our return to base option on smaller machines like Semi Automatic Strappers and Gummed Tape Machines, give you the benefit of a full appraisal prior to any repairs to ensure you do not face high unexpected repair bills.
If you have a service enquiry why not email us at sales@north-edge.co.uk and we will do our upmost to assist you.
TP-601D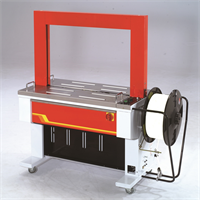 TP-601D Automatic Strapping Machine.
We supply machines, spares and servicing.