We supply a range of Hand Applied Strapping on plastic reels. In 12mm 15mm and 16mm widths. With breaking strains ranging from 145kg to 420kg, and thickness ranging from 0.55mm to 0.96mm.
In conjuction with the Strapping, we also offer a range of Hand Strapping Tools, Strapping Seals, Buckles and dispensers.
If you have something that requires strapping, then we have the solution.
Tensioner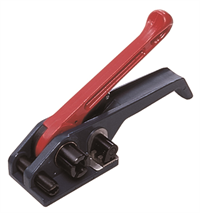 Sealer