We supply both Paper and Plastic Banding Tapes. Our Paper Tapes are available in plain Brown and White or bespoke printed. We also offer a Tri-Laminated Clear Plastic product which can also be printed to order.
Our stock rolls are wound on 40mm cores, specifically for use on Akebono Banding Machines. The Paper products are 29mm wide by 200 metres long, with the Plastic Banding being 29mm wide by 180 metres long.
We also offer a wide range of widths and lengths, slit to order from our log rolls.
The Banding Tapes are an ideal product for collating items without causing damage. The Tapes offer long term security and are easy to remove when required.
Banding Tape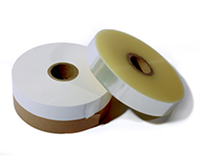 Banding Tapes available from stock.