We supply a wide range of Printed Self Adhesive Tapes up to 8 colours and in variable sizes.
We offer Top Surface Printed Tape from as little as 72 rolls per design, and Under Surface Printed Tapes from as little as 720 rolls. We also offer High Definition Printed Tape using engraved printing rollers for more complicated designs.
Our prices on Under surface Printed Tapes are comparable with those of Plain Packaging Tapes, so why not look at getting your own company logo on your tape. It's a great marketing tool, and it also adds extra security to your packages.
Printing up to 8 colours

Minimum quantity as low as 72 rolls

Prices comparable to Plain Tapes

Great advertising for your company
Printed Tape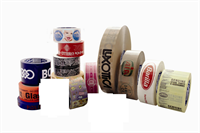 We offer a wide range of Printed Self Ahesive Tape up to 8 colours.
Please give us a call to discuss your specific requirements.