The Akebono OB-360 Paper and Film Tape Banding Machine is fast and reliable, capable of up to 30 cycles per minute. It's versatile design accepts a wide range of products, and is capable of banding items from 30mm wide by 10mm high up to 420mm Wide by 210mm high, with adjustable tension force from 5 to 30N.
The OB-360 can be operated via a start switch, foot pedal, or automatically using the photo eye. The banding is heat sealed leaving a neat and secure seal. Tension is fully adjustable to ensure products are correctly banded and free from damage.
SPECIFICATION.
Package size; Min 30mm x 10mm, Max 420mm x 210mm.

Tension force between 5 and 30N.

Machine dimension: 570mm wide, 282mm deep, 488mm high.

Net weight 28kg.

Small robust design.

30 cycles per minute.

Neat heat sealing.

Fully adjustable heat and tension control.
Akebono OB-360 Banding Machine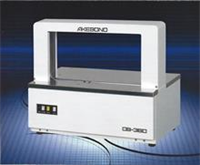 Paper and Film Tape Banding Machine