At Northedge Packaging we understand the importance of using good quality strapping on Semi-Automatic and more importantly, Automatic Strapping Machines.
We offer consistent high quality products from 5mm up to 12mm wide and from 0.4mm to 0.85mm thick. Our Machine Strap is wound on either 200mm x 190mm or 406mm x 150mm Cardboard Cores.
We are able to supply a variety of colours, with stock holding of Blue and White at all times.
We also supply bespoke Printed Strapping, which is printed prior to embossing to give an extremely high quality print finish.
Machine Strapping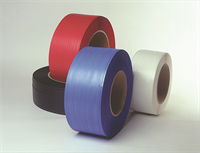 We stock high quality Machine Applied Strapping.