The Better Packages BP333 is a Heavy Duty, Variable Length, Water Activated Gummed Paper Tape Dispenser. Suitable for Plain and Reinforced Tape up to 77mm wide.
Features:
Dispenses up to 30" (76 cm) of tape with one stroke - more with multiple strokes.

Variety of simple tape length settings.

Two water brushes for uniform wetting.

Guillotine sheer blades for clean cutting.

Rugged steel side-frame construction.

Large water reservoir.

Mechanically superior design.

Without the need for electricity, dispenser is easily moved from one packing line to another.
BP333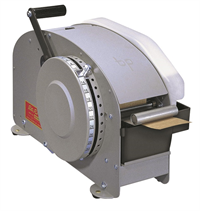 Rugged design, simple mainenance.
Pre-determined tape length settings.
Requires no power supply.