Machine Applied Pallet Stretch Film
Whether you have a Semi-Automatic Standard Pallet Wrapping Machine or a Fully Automatic High Speed Pallet Wrapping Machine, we have a film to suit your needs.
Our high quality films are designed to maximise yield in order to offer the most cost effective Pallet Wrapping Operation.
Our Standard grade cast film is capable of a minimum 100% stretch, with our high grade cast film capable of 300% plus. All grades are available in a wide range of gauges from 15 to 35 micron, and in both opaque and tint colours.
With our technical knowledge of Pallet Wrapping Machinery, we also offer on site Film Yield trials. These are aimed to provide our customers with accurate costings for their Pallet Wrapping Operation, with possible reccomendations on how to reduce costs and improve Pallet Stability.
Machine Applied Pallet Stretch film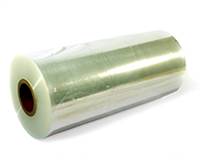 Please call us to discuss your Pallet Wrapping requirements.