The TP-601 Automatic Strapping Machine is one of the most advanced in its class. Featuring electronic tension control, Automatic strap feed and automatic strap eject. It runs on 8mm to 12mm wide Polypropylene Strap, and is available with a variety of arch sizes, with 850mm wide by 600mm high being the standard size. The TP-601 is a general purpose automatic machine that has a reliable and robust strapping head, fully adjustable tension control and a simple automatic strap feed function.
We offer a full service back up on our Strapping Machines, including spare parts and servicing/repairs.
TP-601D SPECIFICATION:
Standard arch size: 850mm wide x 600mm high.

Dimensions: 1430mm width x 620mm depth x 1540mm height.

Tension: 10-70kgs.

Strap width: 8mm - 12mm

Strap thickness: 0.55 - 0.75mm.

Speed: Approximately 25 straps per minute.

Push button or foot pedal operation.
TP-601D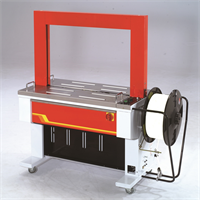 TP-601D Automatic Strapping Machine.
We supply machines, spares and servicing.